what's a mini share?
Curious about the convenience and savings that come with buying in bulk? Wondering about the health and environmental benefits associated with sourcing directly from the ranch? Not enough room in your freezer or members in your household for a 1/4 cow?
Here's the answer.
find out more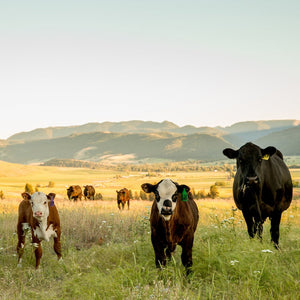 AN INVESTMENT IN THE LAND
Drawing on the CSA (Community Supported Agriculture) model for inspiration, we built our business around a program where we sell whole, half and quarter animals from our century-old family ranch directly to our customers. Like a CSA, when you reserve a cow, pig or lamb share, your deposit goes toward caring for that animal and the pastures it grazes, until it's time to hand it off to you.
We are committed stewards of the land. We believe that healthy soil is the basis of all life, that cattle can help fight climate change, and that a vibrant, engaged community is essential for humans to thrive. We respect our cattle and strive to leave everything we touch a little bit better for the next generation.
We value tradition, health and innovation. Above all, we are proud of our regenerative ranching practices, which result in clean, nutritious, deeply flavorful meat and healthy soil. It's the things that we believe in that make our meat so delicious.
YOUR PURCHASE HELPS BUILD SOIL HEALTH
---
CUSTOM COW, PIG AND LAMB SHARES DELIVERED TO PORTLAND, OR and SEATTLE, WA
---